After many debates and push back against the prospect of a 4.5% rental rate increase for 2019, B.C.'s government has agreed to adjust the formula. Based on a proposal from the NDP's Rental Housing Task Force, the new formula brings next year's maximum rental rate increase to 2.5%.
Previously, British Columbia rate increases were calculated by taking the latest inflation rate and adding an additional 2%. The three-member panel, led by Spencer Chandra Herbert, suggested that the government limits the increase to the rate of inflation and eliminate the additional 2%.
This newly released formula is winning praise from tenants' advocates, but heavily criticized by developers and landlords alike who would now see rentals as a less profitable investment. Many say the policy change will now discourage purpose built rental housing and add pressure to an already-limited rental supply, which could in-turn negatively impact rental housing affordability.
David Goodman, a principal with HQ Commercial and publisher of the Goodman Report says, the changed formula will have a "significant impact on the profitability of a project. When you have this type of limitation, the lenders or the banks take a somewhat dim view of the long-term prospects of this project."
With the higher interest rates and an already tight lending environmental, Mr. Goodman believes that we can expect to see dozens or even hundreds of rental developments turned into condominiums or even postponed indefinitely.
David Hutniak, chief executive of Landlord B.C. says landlords are also feeling the pressure with the costs of maintenance, insurance, and taxes outpacing rental increases over the past decade. Hutniak believes that removing the existing formula could make rental properties unsustainable for landlords. Landlord B.C. warns that limiting a landlord's ability to recover costs may also delay or prohibit renovations.
When asked about the potential effects to investment, Premier John Hogan says, "We had over 1.5 million renters who were looking at a 4.5-per-cent increase when their wages hadn't gone up by 4.5 per cent. … This is a balance. This is something we set out to do to not discourage the development of more rental housing, quite the contrary. We need to make sure the people of B.C. can live within their means."
The provincial government launched a review of British Columbia's rental market earlier this year, with a final report and recommendations due in November.
Although renters and advocacy groups are celebrating this most recent victory, it appears to many as though it  will be short-lived if landlords and developers are finding it more difficult to turn a profit and turn to other more traditional forms of development.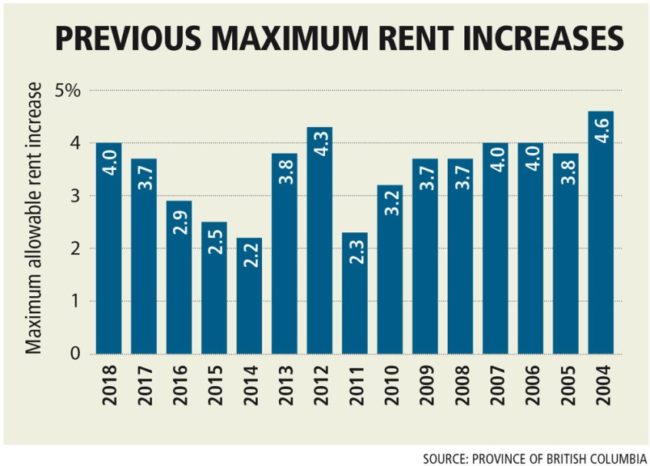 ---
Source: theglobeandmail.com
What are your thoughts on these changes ?