After reviewing economic data and the effects of last year's interest rate hikes, The Bank of Canada has decided to raise its key interest rate to 1.25% as of Wednesday, January 17th. Up a quarter of a percentage point from 1%, this hike is now the highest the rate has been since 2009.
Many were speculating this outcome, especially given the recent discussions regarding the North American Free Trade Agreement (NAFTA), but the Bank justifies its decision by saying, "recent data have been strong, inflation is close to target, and the economy is operating roughly at capacity." However, the Bank is aware and has openly discussed that the future of NAFTA "is clouding the economic outlook," and has incorporated the possible effects on business investment and trade into its projection.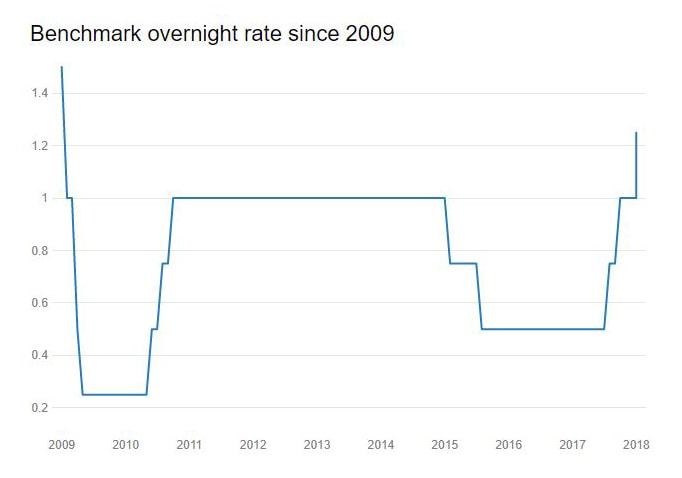 With these recent changes we can expect the Canadian economy to slow down in comparison to the extraordinary highs of 2017. The Bank of Canada has also confirmed in its announcement that the hikes will continue this year, but suggests that they might not be as rapid as markets and financial experts think. Moving forward, the Governing Council of the Bank says that it, "will remain cautious in considering future policy adjustments" and will guide decisions based on assessments of incoming data showing the "economy's sensitivity to interest rates, the evolution of economic capacity, and the dynamics of both wage growth and inflation."
»

The Bank's next full update on the economy's outlook and rate of inflation, including potential risks to their forecast will be published this year on April 18, 2018.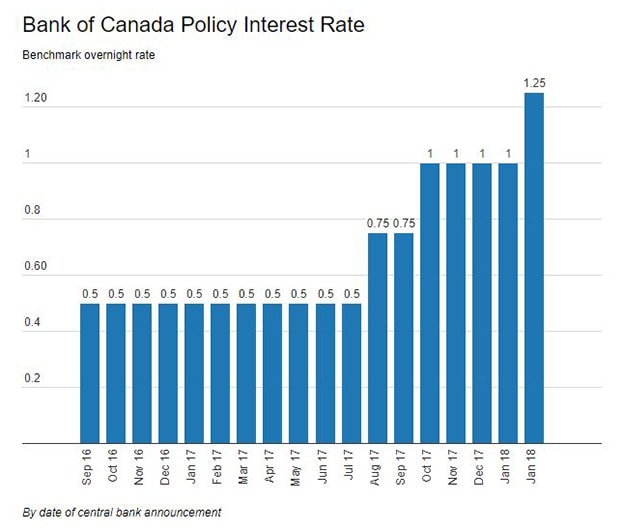 Why Does this Matter?
Although indicators point to a slowing real estate market, British Columbia's Lower Mainland has proven to be an anomaly and extremely resistant to policy changes. With that said, it will be interesting to see how the market will react to not only the interest rate hikes but also the newly implemented mortgage stress test as of January 1st of this year. As mentioned above, several more hikes are in the foreseeable future which will drive demand for more affordable housing temporarily as first time buyers attempt to enter the market before rates rise again. As for development land, the jury is out and we'll see what the year brings.
---
Source: Bank of Canada, Huffington Post, CTV News
need a question answered?