Here we go again. Another key interest rate hike from Bank of Canada (BoC) now puts our benchmark rate at 1.5%. After reviewing the current economy, BoC increased the rate another 0.25% from the previous 1.25%.
The bank's rate, also known as the overnight rate, determines the amount of interest that our retail banks have to pay for short term loans. As many of you are now familiar with since the Bank of Canada started these changes July last year, this rate affects what consumers have to pay to retail banks for lending like mortgages, lines of credit and savings accounts. This is the fourth rate hike of its kind since last year and puts the key rate at the highest it has been in 10 years since 2008.
Many analysts and investors are discussing what the future holds for our economy as external factors also cause uncertainty such as the current tariff war. The BoC has commented on these issues saying that, "the possibility of more trade protectionism is the most important threat to global prospects." They also acknowledged that their original projections of the impact of trade tensions may need to adjust as, "the effect is now judged to be larger."
Despite these comments and speculations, the bank has stated that it does see even more rate hikes in the future and several economists are also expecting possibly three or four more increases by the end of 2019.
The Governing Council states that, "higher interest rates will be warranted to keep inflation near target and [the bank] will continue to take a gradual approach, guided by incoming data."
With these additional changes now in effect and the potential for more in the near future, it may be a great time to review your options or sit down with a financial advisor. Maybe consider securing a rate, opting for a variable-rate mortgage, or possibly even selling an asset as the BoC has mentioned that the latest interest rate hikes and mortgage lending rules are working in stabilizing the market. Either way, in times of uncertainty, the more advice you can get to protect yourself, the better.
Keep an eye out for announcements from retail banks in the next few days for the new rates to consumers. The next decision from the Bank of Canada regarding interest rates is expected to take place on September 5.
---
The Interest Rate's Yearly Rate of Change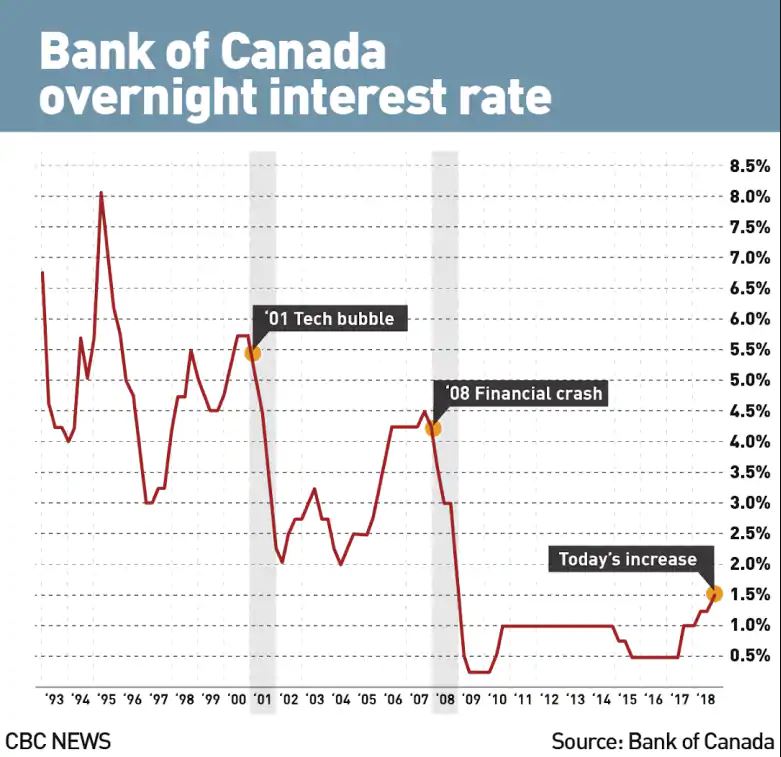 ---
Source: bankofcanada.ca, cbc.ca, theglobeandmail.com, globalnews.ca
need a question answered?