The BC government gave formal approval to fund $3.94 Billion for the project.

Full completion projection is 2028 which is 2 years earlier than indicated. Instead of doing it in phases, it will be done in one shot.
Source: Vancouver Sun
The Surrey-to-Langley SkyTrain extension hit a milestone Thursday when the B.C. government gave its formal approval to fund the project, the first rapid transit expansion south of the Fraser in three decades. B.C. and municipal politicians gathered at Holland Park in Surrey to present the business case for the $3.94 billion project, touted as one that would transform the region and create denser, more transit-oriented communities.
The project will be built earlier and for $500 million cheaper than originally planned, Transportation Minister Rob Fleming said at the news conference.
"This is going to be a transformative project for this region," said Fleming.
"This project will now be delivered by 2028, two years earlier than originally planned. And in addition to accelerating this project, it will cost $500 million less by doing it all at once to Langley."
The province will provide $2.476 billion for the project, more than 60 percent of the total cost.
The federal government will pony up $1.306 billion, and the remaining $228 million to come from local governments. The 16-kilometer-long project would include eight stations and three bus exchanges and add 30 more SkyTrain train cars. The elevated rapid transit line would start from King George SkyTrain station, the terminus of the Expo Line, into the heart of Langley City, running alongside the Fraser Highway.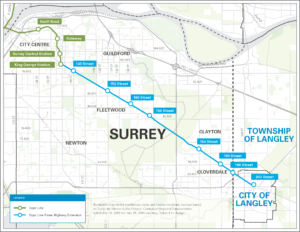 Once completed, the new system can whisk riders from Langley City Centre to King George SkyTrain in 22 minutes and take riders all the way to Waterfront Station in downtown Vancouver in just over an hour.
The extension was originally proposed to be built in two phases: The first seven kilometers from King George Station to Fleetwood by 2025 and the second nine-kilometer track from Fleetwood to Langley Centre by 2030.
In 2020, the NDP government committed to building the project in one go, which Fleming said saves half a billion dollars by not "demobilizing" the site and using a single procurement process.
The province plans to spend another $60 million for projects around the SkyTrain extension that would encourage people to bike or walk.
Officials said the project will not only provide transportation options, but also boost transit-oriented development around the new stations and create new opportunities for market and affordable housing, child care, and other public amenities.
For clarification on any of the above topics or to discuss them more in detail, please reach out to us at info@varinggroup.com or by phone at 604.565.3478