National home sales decline by 0.9% in December
December's home sale decline has broken an eight-month streak of gains.
While home sales may have declined from November to December, sales activity was 22.7% above December 2018. This is just 7% below the market's 2016-2017 peak. There have been higher home sales in areas such as the Lower Mainland of British Columbia, Calgary, and Montreal while the Greater Toronto Area and Ottawa have seen a decline in December. Lack of supply is the main factor affecting sales growth in these markets. Price trends in British Columbia, the Greater Toronto Area, Ottawa, and Montreal look likely to lift the national rates this year despite the weak pricing in housing markets in the Prairie regions.
The amount of newly listed homes decreased by 1.8% in December, leaving the amount of new supply close to its lowest level in a decade. This decline was caused mainly by fewer new listings available in the Greater Toronto Area and Ottawa. In addition, total available listings are at a 12 year low. If the shortage of the number of houses on the market persists, fewer available listings will likely increase sales activity. This shortage, in areas such as Ontario, Quebec, and the Maritime provinces, means that sellers hold the upper hand in sales negotiations.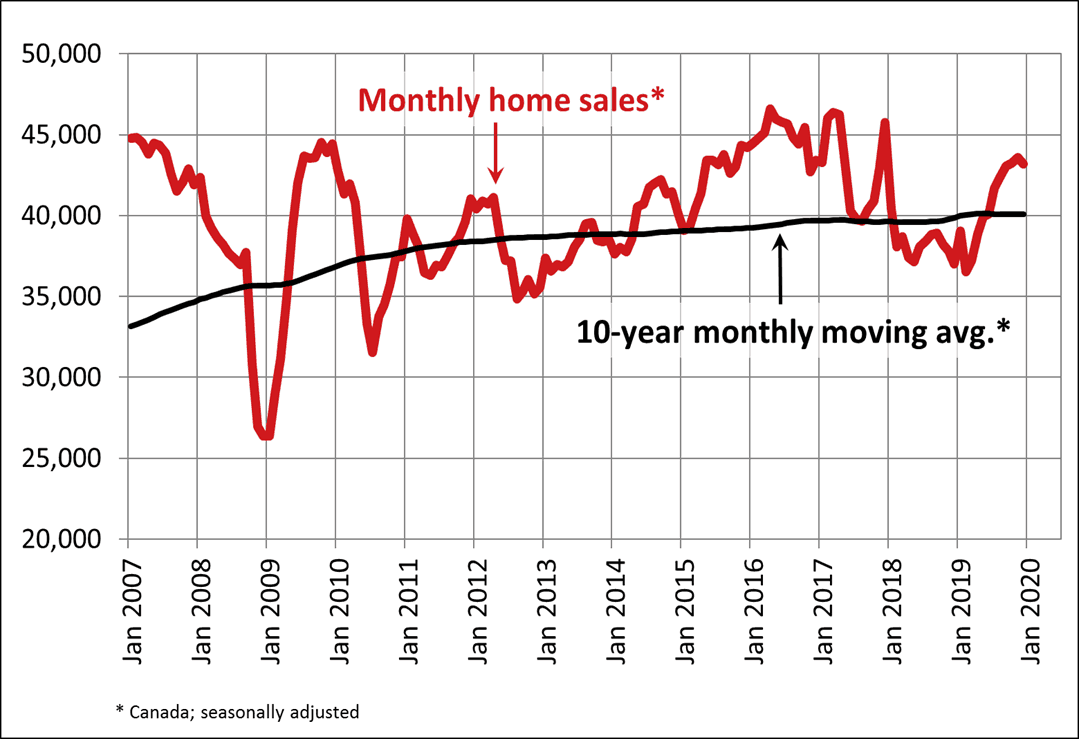 Source: The Canadian Real Estate Association, Canadian home sales inch lower in December
Current Home Sales Trends
In British Columbia, the Greater Vancouver Area and the Fraser Valley saw home sale prices go down but the year over year declines are shrinking. Meanwhile, areas such as Okanagan (+4.2%), Victoria (+2.3%), and Vancouver Island (+4.2%) all saw price increases in their home sales.
In addition, prices in the Prairies are declining. Home sale prices have gone down year over year in Calgary, Edmonton, Saskatoon, and Regina.
Moreover, in Ontario, Ottawa, and Montreal, home sale prices have grown in recent years.
Currently, all benchmark home categories are tracking to increase further into positive territory on a year to year basis. One-storey single-family home prices had the biggest increase (+3.6%) followed closely by apartment units (+3.4%) and two-storey single-family homes (3.3%). The actual (not seasonally adjusted) national average price for homes sold in December 2019 was approximately $517,000, up 9.6% from the same month the previous year. However, the national average price is heavily skewed due to Canada's most active and expensive housing markets, the Greater Vancouver Area and the Greater Toronto Area. Excluding these two markets, the national average price drops down to $117,000. However, this is still a 6.7% gain from December 2018.
You can view the full report here: https://www.crea.ca/news/canadian-home-sales-inch-lower-in-december/
For clarification on any of the above topics or to discuss them more in detail, please reach out to us at info@varinggroup.com or by phone at 604.565.3478