The Canadian Real Estate Association (CREA) has revisited their sales forecasts for both 2018 and 2019. After seeing the market's results as we cross the halfway point of 2018, CREA now believes sales will fall even further than previously expected with BC showing the greatest impact.
Sales for Canadian real estate are anticipated to fall an additional 3.9% making a total of an 11% decline from 2017. Overall the industry is expecting decline over 50% higher than prior forecasts.
British Columbia is expected to drop a further 6.7% compared to the previous 11% forecast.
A 17.7% decline from 2017 for BC makes this ratio the largest change of expected sales in comparison to all other provinces. All are anxiously watching for further changes in this real estate market and all are affected with even further fluctuations taking place within the province itself.
2018 Forecast Changes
for Canadian Real Estate Sales
The percent change of Canadian real estate sales forecasted for 2018.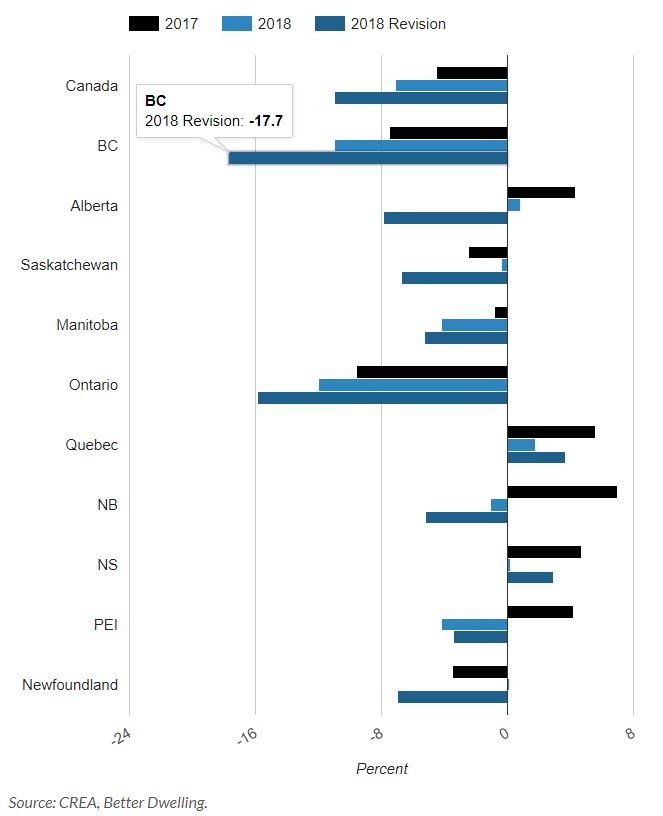 ---
Source: www.betterdwelling.com, Canadian Real Estate Association
need a question answered?