How will Coquitlam continue to grow while maintaining a compact urban boundary? Is it possible for this growth to be sustainable and affordable while minimizing environmental impact? These are just two of the most pressing challenges faced by the City of Coquitlam and Metro Vancouver.
While many other cities have the space and land to continue their urban sprawl, Coquitlam is tasked with optimizing growth within an urban containment boundary by making efficient use of their existing and remaining land. Through speaking with Mayor Stewart, it is easy to see how the city aims to address these challenges and why Coquitlam remains one of the most desirable destinations for tenants, homeowners, and developers alike.
"Coquitlam has adopted Metro Vancouver's Regional Growth Strategy, which envisions a compact urban region", says Stewart, "Unlike so many other places in North America, where urban sprawl continues, this region has developed an urban containment boundary and then held it firm. Coquitlam is a strong suppor
ter of that process as it creates a more sustainable region".
In addition to sustainable growth, Mayor Stewart notes that this urban containment boundary is also necessary due to the terrain that surrounds Coquitlam and the region. "The region has some restrictions based on physical geography", states Stewart, "We can't go further west than the Pacific Ocean, the mountains to the north hem us in, and we also have agricultural land to the east and to the south of us". With these types of terrain hemming Coquitlam in and limiting its potential for horizontal growth, the city must determine how to make the most of its existing land through vertical growth, efficient developments, and forward-thinking planning.
To ensure sustainable growth and affordable housing for Coquitlam, Stewart acknowledges the importance of residential densification and efficient land use. "We'll now see densification in many cases," says Stewart, "This is because we, as a region, can no longer support the kind of housing that we lived in as kids".
It is well-known that Coquitlam is home to some of the best hiking trails, biking paths, natural environments, and scenic views in the Lower Mainland. It is no wonder then, that residents of Coquitlam wish to protect these natural elements that make the city so desirable and unique.
"People want to make sure we're embracing the environment and protecting the setting that drew people here in the first place", says Stewart, "That is why our 2022 Business Plan includes, as key elements, the sustainability and the livability of our community. We've always worked to have our community be sustainable while being sensitive to the surrounding environment. We have a new Environmental Sustainability Plan that is guiding the way that we develop, including the development of Burke Mountain".
In a further effort to reduce environmental impact, Coquitlam has always been looking for ways to reduce greenhouse gas emissions and reliance on cars. With many residents commuting to other areas of Metro Vancouver for work or school every day, public transit is an essential component for Coquitlam. While buses certainly play an important role, SkyTrain is a crucial mode of transport for thousands of Coquitlam residents. Mayor Stewart cites the Evergreen expansion of the Millennium Line as one of the most important developments for efficient transportation and environmental sustainability.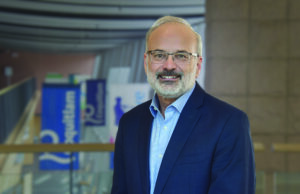 This combination of affordable housing, environmentally conscious development, exceptional transit, and the creation of a centralized mixed-used City Centre reveal how Coquitlam is continuing to grow within the urban containment boundary. While these space limitations would be crushing for some, Coquitlam is embracing these challenges and continues to be one of the most desirable areas in the Lower Mainland. As the city continues to grow, Stewart knows how important efficient land use will be for the future of Coquitlam and is committed to helping the city reach new heights.
For clarification on any of the above topics or to discuss them more in detail, please reach out to us at info@varinggroup.com or by phone at 604.565.3478