Canada's inflation rate falls to 7.6% in July as gas prices fall
See full statement below:
In June, inflation hit a 39-year high of 8.1 per cent, with gasoline prices the single biggest contributor to the overall rate increase.
By contrast, gasoline prices declined on a monthly basis in July, according to the agency's consumer price index. Consumers paid 9.2 per cent less for gasoline in July than they did in June, a monthly decline not seen since April 2020.
Ontario saw a 12.2 per cent monthly decline in gas prices — the largest of any province — after the provincial government implemented a gas and fuel tax cut on July 1. But some consumers have already made significant lifestyle changes to balance out the high costs.
The overall downward trend, which was expected by economists, indicates that skyrocketing inflation is starting to ease up. But it's still a long way from the Bank of Canada's 2.2 per cent target.
Groceries rise at fastest pace since Aug. 1981.
Even as the cost of gas declined, prices at grocery stores rose at 9.9 per cent year-over-year, their fastest pace since Aug. 1981.
Bakery products, non-alcoholic beverages, eggs and fresh fruit are among the items seeing faster price growth. Baked goods in particular are up 13.6 per cent as the Russian invasion of Ukraine has contributed to surging wheat prices.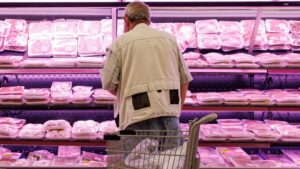 Higher prices for services like flights (up by 25.5 per cent), natural gas (12.4 per cent) and hotel stays (10.1 per cent) were notable contributing factors to the month-over-month increase due to a busier travel season
While it is widely expected that more rate hikes are to come, the question is whether the bank will issue a 50 basis point hike or a 75 basis point hike.
Even with today's downward trending annual inflation rate, it remains to be seen how much that number will decrease without further action.
Source: CBC News
For clarification on any of the above topics or to discuss them more in detail, please reach out to us at info@varinggroup.com or by phone at 604.565.3478