The key interest rate has been cut for the first time in four years.
Bank of Canada reduces the interest rate to 1.25% due to the threat posed by the coronavirus.
"Before the outbreak, the global economy was showing signs of stabilizing," the Bank of Canada had said in their statement about the new interest rate cuts. "While Canada's economy has been operating close to potential with inflation on target, the COVID-19 virus is a material negative shock to the Canadian and global outlooks, and monetary and fiscal authorities are responding."
The coronavirus has presented a significant threat to the global economy and continues to even though it was showing signs of improvement. Due to the virus, supply chains have been disrupted and the tourism industry has suffered. In addition to this, both business investment and exports have weakened in Canada. Based on these reasons, the Bank of Canada has decided to cut the interest rate for the first time in four years. They have followed the U.S. Federal Reserve in slashing interest rates by half a percentage point to 1.25%.
In addition, the Bank of Canada has stated it will be monitoring the situation as the outbreak evolves and are ready to adjust interest rates further to help support economic growth and keep inflation on target. As no one knows how long COVID-19 will be an issue, this cut by the Bank of Canada could be followed by more.
It is unclear how much of an impact COVID-19 will have on the B.C. economy. However, due to the lower interest rates, individuals might see a decline in mortgage rates and an increase of buyers into the market.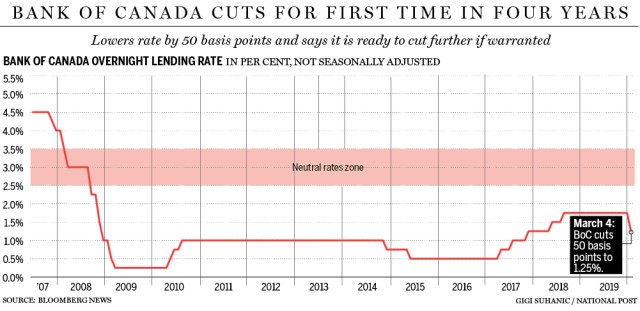 Source: Financial Post, Bank of Canada cuts rate by half point, stands ready to cut more in face of coronavirus threat
For clarification on any of the above topics or to discuss them more in detail, please reach out to us at info@varinggroup.com or by phone at 604.565.3478