Interest Rates HOLD at 1.75%
The Bank of Canada will be one of the only central banks ending 2019 without cutting interest rates.
Recent data shows that the third quarter of the Canadian economy was stronger than expected, Governor Stephen Poloz has left the interest rate at 1.75 per cent. The Dec. 4th meeting marks the ninth consecutive meeting where the Bank of Canada has decided to keep the interest rates the same. This has been a standout from other central banks as many of the Bank of Canada's peers have been dropping their rates due to a bleak outlook on the global economy.
However, Canadian policymakers seem optimistic that Canada will move past this hurdle. Many have noted that business investment has shown unexpected strong growth in the third quarter of 2019. The Bank of Canada has said that they will be continuing to assess the impact of trade conflicts as the biggest source of risk to the global economy. In addition, consumer spending and housing activity is another important factor in the Canadian economy, both of which have continued to show strength. The Bank of Canada has indicated that it would continue to be alert for any financial vulnerability that may affect the household sector.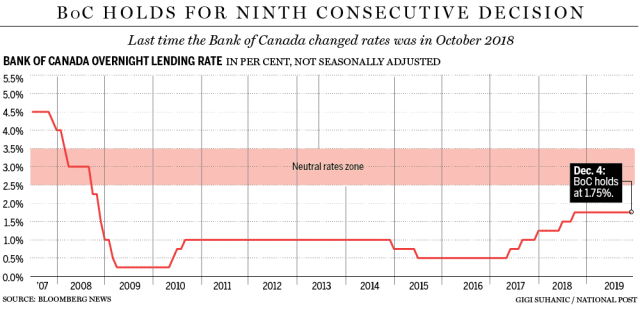 Source: Financial Post, Bank of Canada holds rate on early signs global economy is stabilizing
Consumer spending and housing activity
British Columbia Loses 18,000 Jobs This November 
As the Bank of Canada is on the lookout for these financial vulnerabilities in consumer spending, employment has declined in November. These job losses were largely seen in Quebec, Alberta, and British Columbia. Ontario and Prince Edward Island were the only provinces to see job growth with little change in the other provinces. In British Columbia, employment fell by 18,000 in November, which spanned several industries, primarily forestry. The unemployment rate rose to 5.0% in November from 4.7% in October.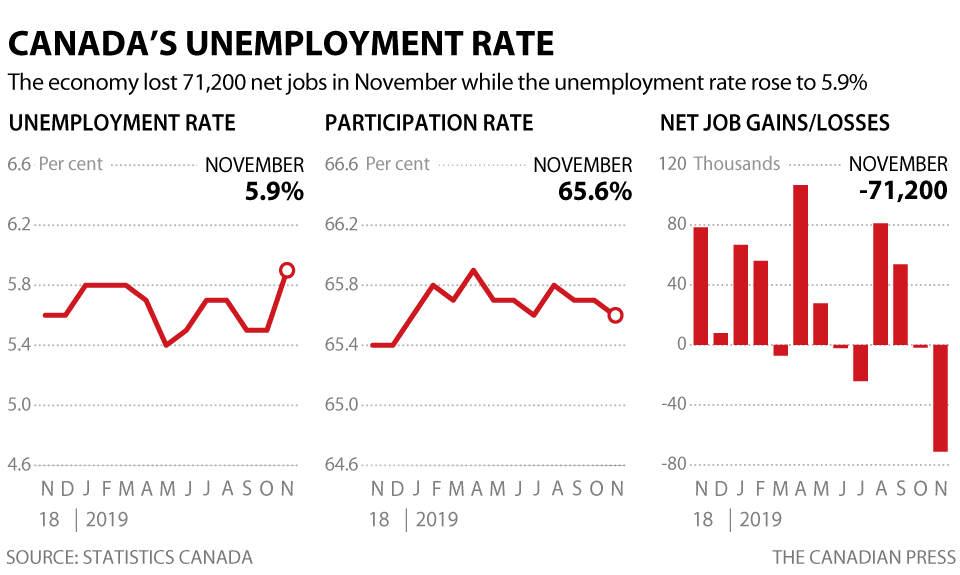 Source: Global News, Canadian economy shed 71K jobs in November
Men aged 25 to 54 and women aged 55 and over saw the greatest fall in employment. The unemployment rate for core aged men rose for the second consecutive month to 5.3% while the unemployment rate for women aged 55 and over rose to 4.7%. Furthermore, there was a slight change in employment for core aged women where their unemployment rate rose by 0.3%.
The fall in employment, announced by Statistics Canada, less than a week after the Bank of Canada's decision to keep interest rates at 1.75% may result in a cut to the interest rate in the first quarter of 2020.
For clarification on any of the above topics or to discuss them more in detail, please reach out to us at info@varinggroup.com or by phone at 604.565.3478