Land prices skyrocket when 'beds or sheds' planned



FEATURE | Listing for a one-acre lot with industrial potential in Abbotsford drew 99 calls in 24 hours and sold at nearly $3 million; residential land agents say 'turn and burn' phase could be ending as values soar!
Western Investor | Frank O'Brien
June 2021
Veteran Fraser Valley commercial real estate agent Bob Edwards got a fast lesson in land demand when he listed a one-acre parcel that has the potential to be zoned industrial in West Abbotsford. In less than 24 hours after advertising the listing in February, Edwards received 99 calls from potential buyers, along with at least 50 text messages and 50 emails.
The four top bidders all presented no-subject offers and the land sold for the full asking price of $2,988,800­­, according to Edwards, agent/owner at eXp Realty, Abbotsford.
"I was offered over $3 million, but that buyer had a number of subjects," Edwards said. The land, which would require rezoning to industrial, sold for well above its BC Assessment value of $1.67 million.
In real estate lingo, land for "beds or sheds" (residential or industrial) is now the hot ticket.
In Langley, a 1.7-acre site with the potential for rezoning and development into a four-storey condominium project is currently listed at $9.95  million, the equivalent of more than $5 million per acre, by Varing Group, which specializes in Fraser Valley land sales.
Land was the hottest commercial real estate sector in 2020 across B.C.'s Lower Mainland, accounting for nearly half the value of the entire market. With 409 transactions, up 2.4 per cent from 2019, the year-overyear dollar value of land sales rose 28.7 per cent to $4.28 billion, according to the Commercial Edge report from the Real Estate Board of Greater Vancouver.
While residential has traditionally been the big driver for Vancouver-region land sales, industrial is quickly becoming the most sought-after asset. Some land agents say residential demand is cooling, partly due to the record-high prices for both land and building materials.
Varing Marketing Group president Joe Varing said the frantic pace of land assemblies, sales and multi-unit home development in the Fraser Valley is slowing. "The days of the turn and burn are ending," Varing said, referring to the process of acquiring land, getting it rezoned for higher-density residential development and selling it, a process that could take 12 to 36 months. "There was a fear of missing out."
"Residential land is quite expensive now and buyers are getting squeezed in the margins," he said, noting that some investors are now buying land on long horizons of 10­ to 15  years, based on the official community plans of municipalities.
The acute shortage of industrial land is causing developers and owner-builders to widen their search and deepen their pockets. Based on a 2020­ Metro Vancouver Regional Industrial Lands Strategy report, there could be less than 6,000­­­ acres of undeveloped industrial land left in the entire region.
One $300 million project is rising above a Richmond landfill, and Beedie, a major developer, is bucking protests on its plans for
163 acres in a Delta peat bog. Prices for other brownfield industrial lands, being bought for speculative development, have reached incredible levels.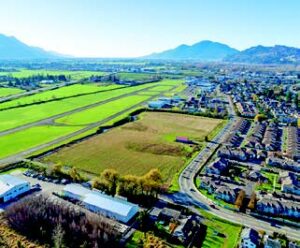 A 15-acre greenfield industrial site in Chilliwack
                                                                        is listed at  $2 million per acre. | KLEIN GROUP
In November 2020­, developer Wesbild paid more than $12 million per acre for the former Sen Western Wholesale Lumber site on Manitoba Street in southwest Vancouver. The $ 59.9 million transaction was the biggest industrial land sale in the past 12 months, according to Avison Young, but it was not the only Vancouver deal with eye-popping prices. PC Urban paid $17.8 million for the 2.4-acre Pacific Metals recycling site on Ontario Street and $15  million for two acres of  industrial on Kent Avenue north in Vancouver.
Greenfield sites, mostly in the Fraser Valley, are in even shorter supply, and prices are reflecting that.
In Chilliwack, 15  acres that was recently rezoned from agriculture to light industrial is listed at $30 million, according to listing agent Dmytro Chernysh of Klein Group Royal LePage Commercial. "We have received multiple offers," Chernysh said on May 13. He noted a March 31 sale broke the record per-acre price for industrial land in Chilliwack when 2.5 acres closed at $ 5.5 million.
"The shortage of industrial space combined with a near record-low cost of capital have driven many owner-occupiers and investors to heavily invest in B.C. industrial properties," according to Avison Young's first-quarter 2021 industrial survey. The agency reported that industrial sales (on assets valued at more than $5 million) hit $575 million in the first three months of 2021 alone.
Interested in more updates like this?
Get news articles, advice, and market activity straight to your inbox.