Canadian's get a slight break as the interest rate used for mortgage stress tests is cut for the first time since 2016.
The mortgage qualifying rate had its first increase July 2017 and continued to increase until it was locked in at 5.34% in May 2018. The new dropped rate of 5.19% is a small relief for home buyers.
There's been a notable shift in lending conditions as many central banks across the globe look to ease policies. Moreover, Canada's five-year bond yield, which influences the direction of five-year fixed-rate mortgages, has tumbled this year. All of these factors have been creating shifts in the mortgage rates and decisions of the Bank of Canada.
Although the drop may not seem like much, the new qualifying rate is approximately equivalent to a 0.15% drop in key interest rates. This could add between 2-3% to someone's purchasing power. For someone making a 20-per-cent down payment, and who earns $50,000 a year, the lower rate will allow them to afford a home that is roughly $4,000 more expensive, according to calculations from RateSpy.com. For those earning $100,000 a year, with the same down payment, they can buy a home about $8,300 pricier. (RateSpy assumes no other debts and a 30-year amortization.)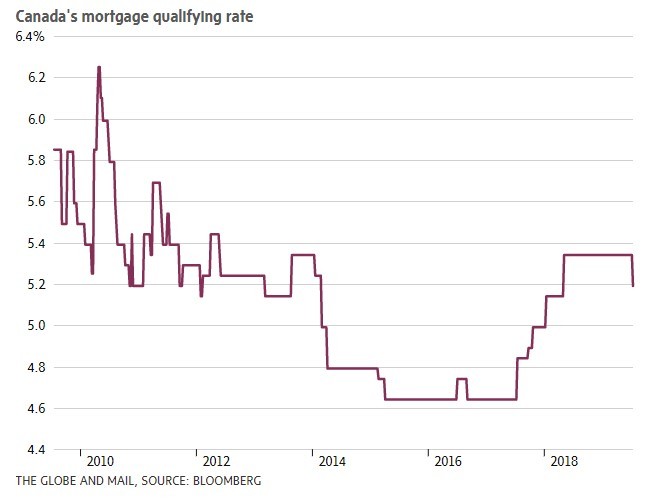 SEND A MESSAGE

We're confident we will be of value to you.