Here are the top stories we're tracking that are affecting real estate values in British Columbia:
THE GREAT LOCKDOWN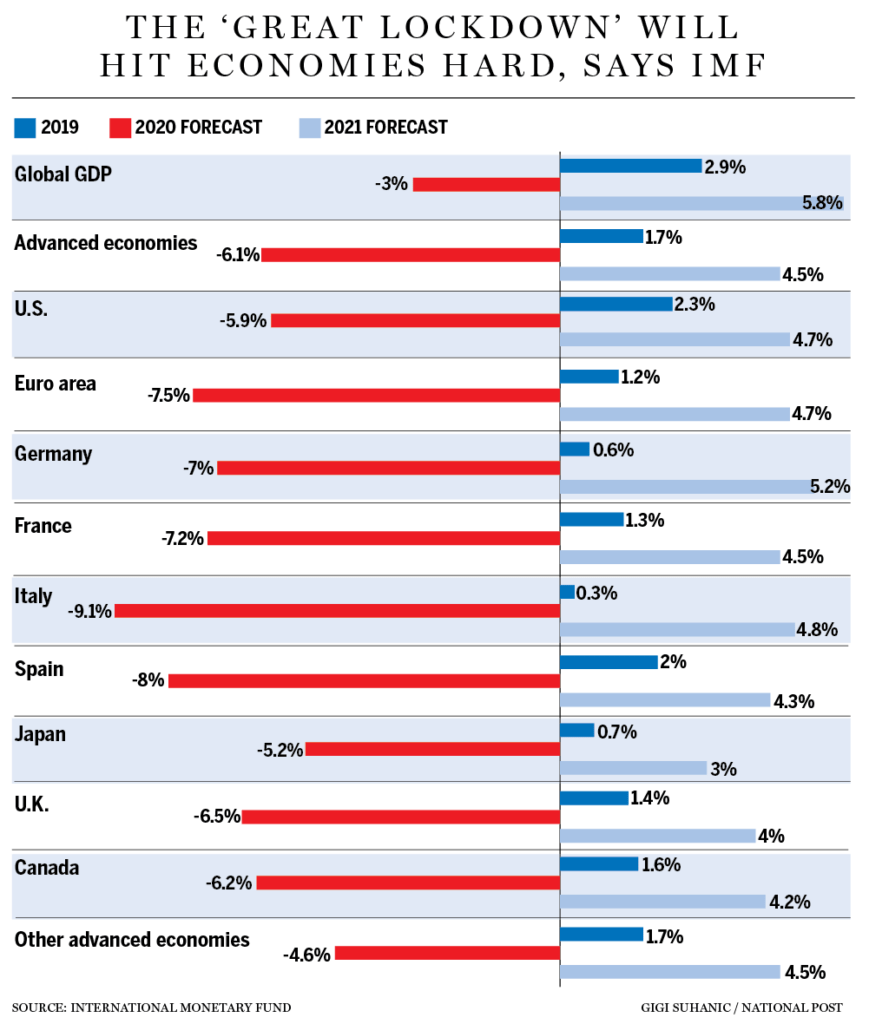 The International Monetary Fund (IMF) has revised its predictions for this year and ongoing financial challenges, which has now been dubbed the "Great Lockdown" recession. IMF's forecast predicts the steepest economic decline in almost a century. They warn the world economy's contraction and recovery would be worse than anticipated if the coronavirus lingers or returns.
In its first World Economic Outlook report, since the spread of the coronavirus and subsequent freezing of major economies, the IMF estimated on Tuesday that the global gross domestic product will shrink 3% this year.
That compares to a January projection of 3.3% expansion and would mark the deepest dive since the Great Depression in the 1930s. It would also dwarf the 0.1% contraction of 2009 amid the financial crisis.
While the fund anticipated growth of 5.8% next year, which would be the strongest in records dating back to 1980, it cautioned risks laid on the downside. Much depends on the longevity of the pandemic, and its effect on activity and related stresses in financial and commodity markets.
BANK OF CANADA: RATES STAY THE SAME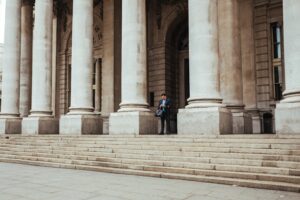 After cutting the interest rate three times in less than a month, the Bank of Canada kept its benchmark rate steady at 0.25% on Wednesday. This was done despite an economic outlook that's looking more and more like one of the bleakest ever seen.
The central bank stated in their release that the current interest rate is essentially at its "effective lower bound." This means the bank doesn't have any plans to cut the rate to zero or into negative territory as many world leaders have pushed for.
The bank says it expects widespread lockdowns, layoffs, and other drastic measures will have a dramatic impact on Canada's economy in the months ahead. The bank states economic activity in the period between April and June will be between 15% and 30% lower than it was at the end of 2019. "Despite a high level of uncertainty, these estimates suggest that the near-term downturn will be the sharpest on record," the bank said.
Although the bank has no plans of entering a negative territory, the BoC is undertaking other measures to combat the economic damage brought by COVID-19. The most important measure being various lending operations to financial institutions and asset purchases in core funding markets, which the bank says have already amounted to $200 billion worth of support. The bank expanded those measures on Wednesday by announcing it will soon start buying up even more bonds and other debts to help keep the economy running.
The Bank of Canada announced last month that it would buy $5 billion worth of federal government debt every week in order to support the economy. The bank stated it will continue this plan with the addition of buying up to $50 billion worth of provincial debt and up to $10 billion worth of corporate debt in order to ensure there is enough of what central bankers refer to as "liquidity"— a complicated term that essentially means ensuring there's enough cash in the system to allow normal transactions to happen.
SLOWLY COMING BACK TO WORK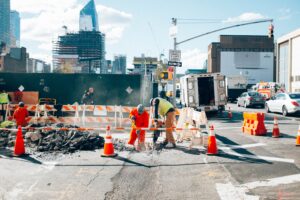 With such dire predictions and a clear indication that the longer this lingers the more financial ruin will be created, it's understandable that provinces and corporations have begun planning and implementing a return back to work to minimize economic damage.  Workers at LaRonde gold mine in Quebec's Abitibi region saw this first-hand today when they returned to work. They arrive in staggered groups at three separate entrances, where a nurse took their temperatures and gave a screening questionnaire. Afterwards, they were finally allowed onto the site to greet their supervisor behind Plexiglas.
Similar measures are just some of the progressive steps being taken by companies to ensure the safety of their employees as we shift to a possible new normal in the workplace. Despite signs of progress, it's too early to proclaim victory in containing the pandemic in Canada. However, with 6 million people seeking income support in the face of an unprecedented economic slump, the pressure is building among the country's provinces for a return to work. The effort will likely be messy, with bursts of activity followed by setbacks -- and it will be months, if not longer before the country is running anywhere near capacity.
Quebec, the province with 52% of the country's cases and 44% of its deaths, took an initial step this week by making mining and home construction priority sectors, enabling their return to business. British Columbia is set to reveal more details this week on potential ways to consider relaxing some social-distancing restrictions.
Dr. Bonnie Henry, British Columbia's chief medical officer, said Monday the province may consider potential steps to relax restrictions "to get going again in our communities and in our health care sector," but only after considering an updated model of the outbreak's trajectory. "That model is expected to be released later this week," she said. The province was the first to feel the brunt of the disease and now appears to be pulling out first.
WHAT THIS MEANS FOR REAL ESTATE
It's clear we find ourselves in unprecedented times, both with a health crisis and near-overnight shutdown of the economy. The future of real estate is unknown. However, we see glimmers of hope as investors and developers begin adapting to this new normal. Active listings remain at record lows, which indicates homeowners have confidence in the real estate market's resilience, even in uncharted waters. Our belief is that the longer this lingers, the more landowners will lose confidence and head for the exits which would pull overall prices downward. On the other hand, if industries head back to work within the next month as many predict, we could see stabilization in prices that would hopefully help make up for lost ground in the 3rd and 4th quarters of this year with interest rates at record lows.
For clarification on any of the above topics or to discuss them more in detail, please reach out to us at info@varinggroup.com or by phone at 604.565.3478
SEND A MESSAGE

We're confident we will be of value to you.