Surrey as a Central Business District: Vancouver Housing Market Club & Varing Marketing Group
Surrey City Centre is undergoing a significant transformation. The Central Business District (CBD) of Surrey has been in planning since 1991, with plans centered around the SkyTrain line in Surrey and the development of a central business district in 104 Avenue, Fraser Highway, and King George Boulevard area sprawling over 570 acres. What was once a suburban town center is developing into a walkable, transit-oriented downtown serving the southern area of the Fraser Valley. Before the COVID-19 pandemic, prolific demand existed in the Surrey office market, and as the pandemic demonstrated, the hybrid work model is here to stay. Despite dampened demand overall, the experts at the UBC Vancouver Housing Market Club and Varing Marketing Group know that all the benefits that made Surrey an attractive office market prior to the pandemic continue to exist today:
Surrey's emerging central business district will continue to benefit from its geographic location in the center of the Metro Vancouver region.

Major planned and approved infrastructure projects will facilitate rapid transportation within Metro Vancouver and the greater Pacific Northwest Region

The rapidly growing population south of the Fraser River will supply a strong labor pool for employers operating in Surrey's central business district going forward.
Short-Term Outlook
A key risk factor is the saturation of Surrey's office market, which would lead to higher vacancy rates in both new and existing office buildings. The mechanics supporting Surrey as a central business district are attractive for the government, businesses, employees, and developers; however, over-supplying the market with office products too quickly could adversely affect the long-term vitality of Surrey's emerging downtown. The challenge facing Surrey policy makers is that they will need to determine what proportion of land use is most appropriate to execute their plan for a vibrant downtown area.
Current Development Overview
There are currently a number of proposals in the surrounding area representing 10,800 residential units, 2.1 million square feet of office space, and 75,000 square feet of retail space. These developments represent the ongoing growth of the Surrey Central Business District as a result of the city's central location, growing population, and attractive financial state. Going forward, these developments provide a strong reason for more companies to commit to the booming Surrey Central Business District in the coming years.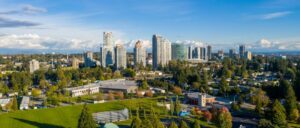 There are a number of developments throughout Surrey's emerging downtown core, including Center Block Surrey. This mixed-use development will include two new towers, the first being 47 stories and the second being 19 stories. The development will also include an expanded SFU campus, 22,000 square feet of retail space, and six floors of parking. This will be an iconic development in the centre of Surrey's Central Business District as it provides ample new office supply and is located near the Surrey Central SkyTrain station, making the development well connected.
Downtown Surrey Development Pipeline
Developer
P

roject

SF
Completion

Lark Group

City Centre 4

352,985 (office/retail)

2024/2025

Century Group

Holland Parkside

 189,444

Aug 2024

Guildford Brook Estates Development

10731 King George Blvd

47,780

Summer 2025

BlueSky Properties

Parkway

202,150

Phase 1 Pre-Sold

Westland Living

10294-10302 City Parkway

124,000

Proposed

City of Surrey

Centre Block

1,378,000

Proposed

Nicola Wealth

Tower 2 at Central




City

514,000

Awaiting Pre-Lease Commitment
Conclusion
In the long run, the City of Surrey is committed to the idea of Surrey as a central business district for the region. City staff is focused on updating and then effectively executing their official community plan for Surrey City Center first to ensure the long-term vitality of Surrey's emerging downtown, building the foundation for sustainable growth. Surrey's emerging Central Business District presents an opportunity for developers to capitalize on the rapid population growth south of the Fraser River and major transportation projects in Metro Vancouver and the Pacific Northwest region going forward.
Interested in more updates like this?
Get news articles, advice, and market activity straight to your inbox.