CHANGING HOUSE
LandCor Data Corp. | Jeff Tisdale
2020
WHEN I DRIVE THROUGH GUILDFORD, I OFTEN THINK OF MY GRANDPA AND WHAT SURREY MUST HAVE BEEN LIKE WHEN HE WAS GROWING UP  IN THE '20s.
Imagine this… often on the weekends, he– along with a couple of his siblings would walk from the farm in Newton up the undeveloped King George ending up in Guildford to hunt ducks. Keep in mind that Surrey in the '20s was very much a rural farming community of well under 10,000 people. How times have changed.
Today, Surrey is home to just over 500,000 inhabitants, and it's safe to say that Guildford is no longer duck hunting ground. But the population isn't the only thing that's changed. Housing has changed since my Grandpa and his family lived on their farm in Newton a  hundred years ago. Change in terms of the number of homes, the valuation, and the image of what a 'home' is. For my Grandpa's generation, and that too of my parents, when a 'home' was discussed, often the reference point was the single-family dwelling–right from market entry up to retirement. For subsequent generations, this image has been morphing into a variety of different types–meeting a variety of different housing tastes.
At Landcor Data Corporation, we're in the business of providing automated valuations for residential properties to a variety of real estate and mortgage professionals on a weekly basis. In doing so, we also track the changing housing mix (attached, detached, condo) and can quite clearly see the setting of one housing type and the growing prominence of another. Of course, I am talking about the decline of the single-family dwelling and the continued growth of the multi-family home (duplex, condo, townhouse etc). In the tables provided, there are some interesting statistics on past changes to housing inventory, both in terms of 'new' product to market as well as overall composition. For the Varing Group readers only, we've taken our 'best guess' at predicting the housing mix in the future (2026 & 2031), and the results to be expected.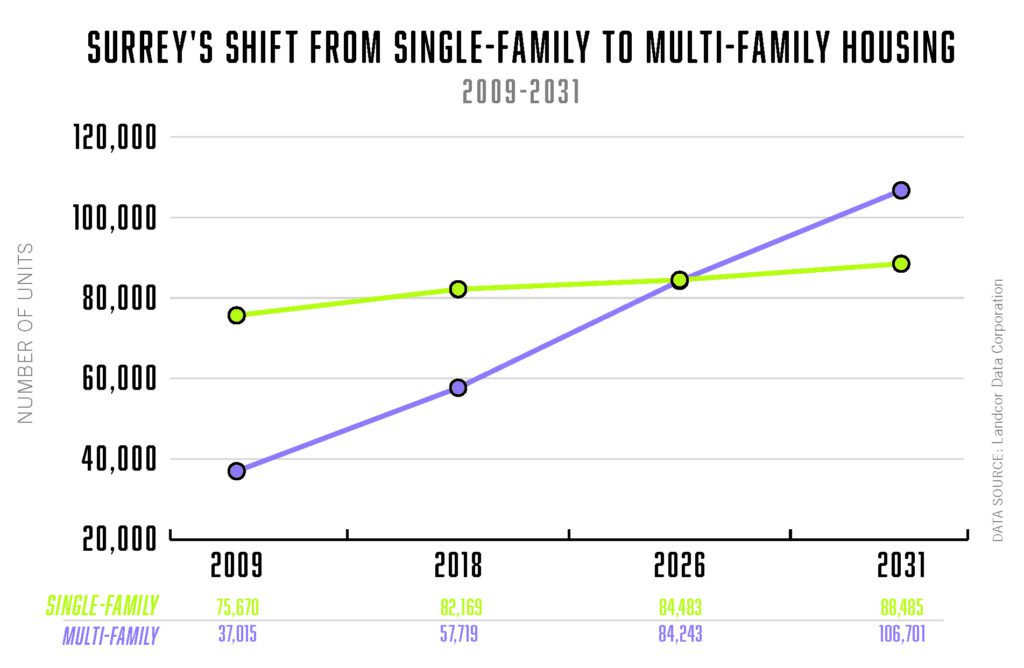 Keep 2026 in mind as this is the year that the mix of single-family and multi-family dwellings will be nearly equal for the first time in Surrey, and each year thereafter, the gap will grow between the two – in the opposite historical direction.
To put this pending transition in context, consider that this cross over has already occurred in three other cities in Metro Vancouver and are directly corresponded to the scarcity of land. New Westminster is an interesting contrast to Surrey – in that while they share a Municipal border, the Royal City is a mere 15.6km² and quite early on recognized the need for an optimal residential land-use strategy.
Turning our eye back to Surrey, city planners are currently modelling a city that will contain well over 800,000 inhabitants by 2046, only twenty-five years from today. Smart, long-term investment strategies are key, especially knowing that the multi-family dwelling will soon be the predominant housing form and the traditional single-family dwelling is the vehicle to enable this transition.
When comparing to other major cities in Metro Vancouver using the graph on the right, Surrey shows the largest spread between single and multi-family units which equates to the lowest number of dwellings per person when taking the city's population into account. The desirability to be close to the many new (and planned) amenities in Surrey will increase demand for housing in the city and will force planners to densify and allow for more 'affordable' housing to be built. Thus, the quest for the scarcest commodity—land will reach a new height.
Speaking of land, I have always thought it fitting (and a bit interesting) that in the area where my Grandpa's family farm once stood, there is now a strip mall with one peculiar office located inside…Ducks Unlimited.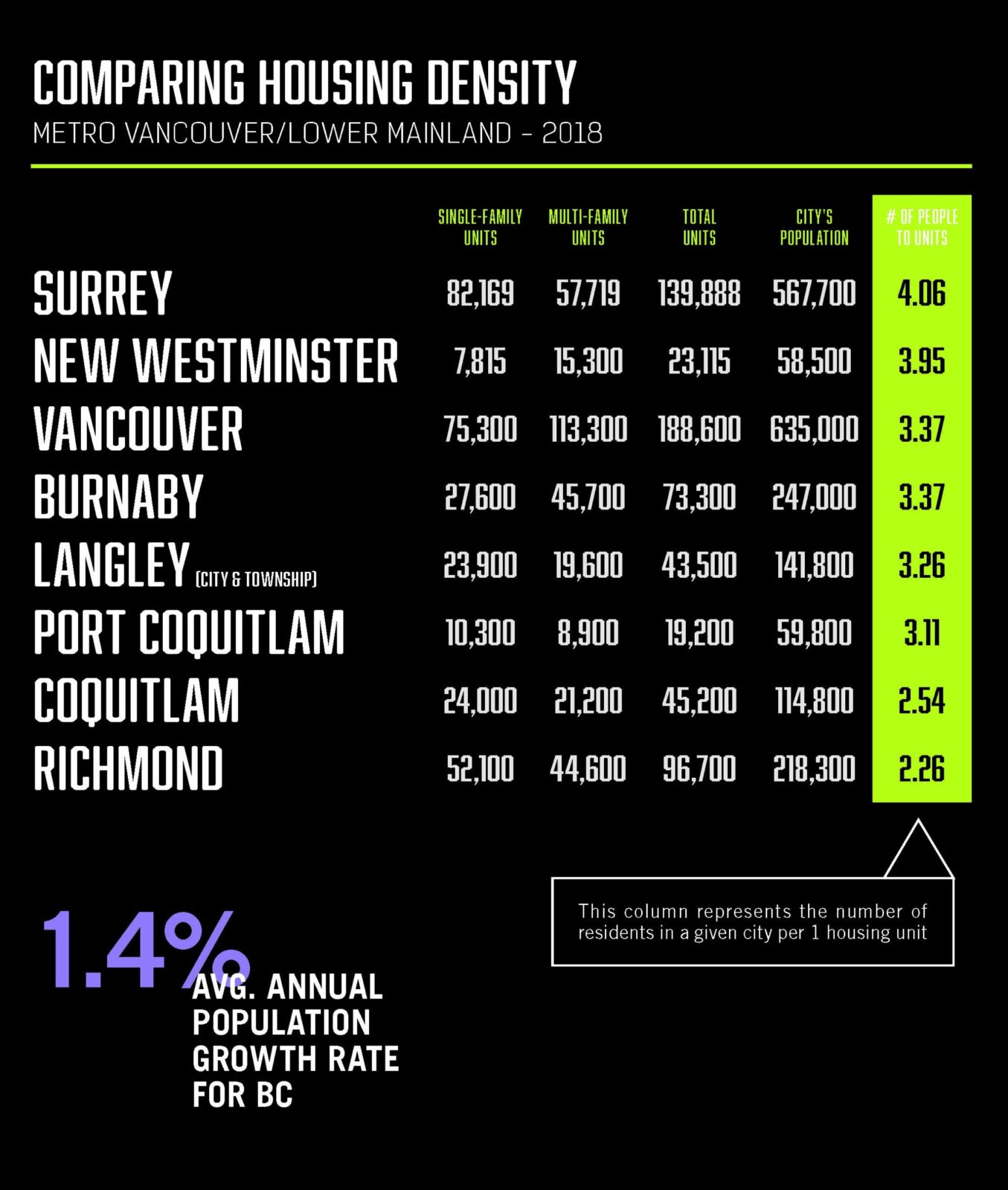 DATA SOURCE: Landcor Data Corporation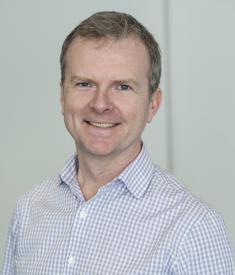 Jeff Tisdale / CEO of Landcor Data Corporation
Established in 1988, Landcor Data Corporation is a leading provider of Financial Services and Real Estate solutions that enable fast, accurate and unbiased valuation and analysis of properties throughout the province of British Columbia. Landcor maintains the best source of real estate data and analytic tools available.
Visit Landcor.com or email jeff@landcor.com for more market trends and property analytics.